The more we like our airplanes, the more it seems we want to modify them for the better. This is particularly true for Cessna owners whose aircraft may not have rolled through the hangar door with all the bells and whistles standard on newer planes.
My 1956 Skyhawk is typical of this group and has been the recipient of a long list of upgrades and modifications over the years. I've talked to a lot of Cessna pilots about their planes and have combined their suggestions with mine to assemble a list of popular Cessna mods.
Of course the official starting point for all modifications is the Supplemental Type Certificates (STC) for aircraft make and model listed by the FAA. The simplest way to review the list is online.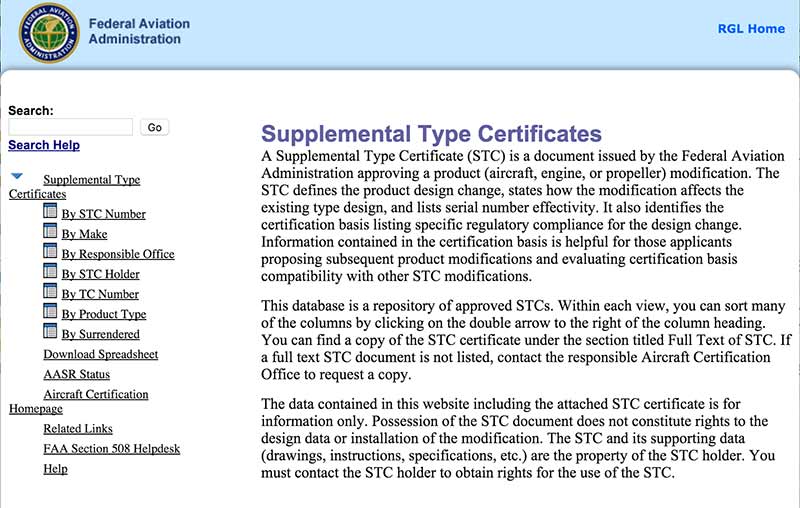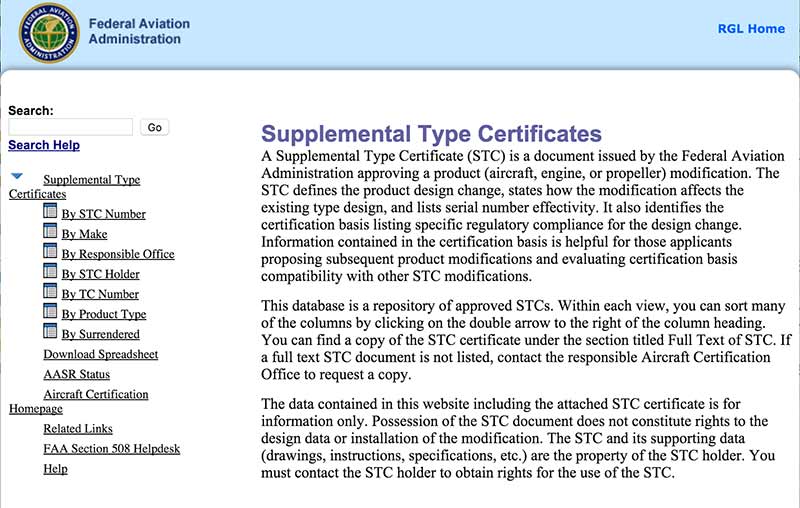 When I click on my aircraft, the original 172, a list of about 150 STCs comes up. There is a similarly long list for all the Cessna 150 through 210 models.
My experience has been that the changes most people make in their aircraft generally fall into three areas — safety, power/performance, and appearance. In some cases the areas overlap.
All the modifications below are within the STC category. It is possible to get local field approval from the FAA for a change or to go much further and relicense your aircraft in the experimental category for a research and development modification, but I'll leave that to the A&P types among us.
My first modification, a minor one, was to replace the original lap belts with shoulder harnesses incorporating a lap belt. Hooker Harnesses and B.A.S. Inc. have popular STCs for this change. And my ever-evolving wish list now includes a set of air bag seat belts.
The biggest change in my Skyhawk was in the engine compartment. My 172 left the factory with a Continental O-300 145-hp 6 cylinder. Today, it flies behind a 180-hp Lycoming O-360 A1A and a Hartzell constant speed propeller, which are part of the AVCON conversion STC (800-972-0988).
Power upgrades are a big priority for many owners and Texas Skyways offers perhaps the best-known engine modifications on the 180, 182, 185, 205, 206, 207, and 210 with more horsepower and increased performance without airframe modifications.
Air Plains also offers engine conversions on many 172, 180 and 182 models.
Peterson's Performance Plus focuses on the 182, delivering outstanding STOL performance and high speed cruise with the Katmai and the 260E. Both are powered by a specially built TCM IO-470-F engine producing 260 hp.
Franklin Aircraft Engines has an STC approved 220-hp six cylinder conversion for the 170 A&B models and some 172 and 175 models.
Soloy Aviation Solutions converts Cessna 206 and 207 models to turbine power using Rolls-Royce engines.
At least two companies advertise Cessna engine conversions using the Chevrolet Corvette V8 engine and a propeller speed reduction unit (PSRU), although neither currently has an STC. Officials at Firewall Forward of Ontario, Canada, say that the company's conversion kit "is an economical re-engine solution for owner-operated and experimental category spray planes currently using O-470 and IO-520 engines."
Firewall Forward Operations Manager Archie Dobbins added that although "the company's engine conversions are intended for the experimental and, in some cases, the restricted category, such as spray planes and other non-passenger commercial operations, we have gotten enquiries from Cessna 172, 180, 185, and 188 owners about installing one of our Corvette engine and CAMDRIVE 500 redrive conversions on owner maintained aircraft." Offering such a conversion kit might be in the company's future, he added.
Quiet Aviation, a Florida-based company, is pursuing an STC for its Corvette installation in a 172. Former aerospace and flight test engineer Al Aden and Orlando Helicopter Airways owner Fred Clark have made a 1968 Skyhawk the flying test bed for a Corvette installation.
"We have about 70 flying hours on N46240 and are running tests to prove that what we've got is okay before we request an amendment to the (STC) issue paper," Aden said. "I hope in three months we can update our website announcing the sale of the experimental conversion. The price would be less than $30,000 and that's a bolt-on conversion, and we can actually reduce the cost if the person wants to exchange an engine and a prop."
"We are using a factory crated Corvette engine," he continued. "It's the LS-3, which is a 430-hp engine, although we can't use all of it because the airframe won't take it. We're set up so that a person can fly continuous 180 horsepower so long as he doesn't exceed the never exceed structural speed. We do that by putting a prop on that does not exceed 2,600 rpms, which is 180 horsepower. We use auto fuel and fuel consumption is testing lower than an O-360."
Another popular Cessna modification is a new exhaust system. A few years ago I chose a Power Flow system primarily for fuel economy and the results have been as advertised. Your local A&P can do the installation, although I chose Triad in Burlington, N.C., because of its experience in doing the installations (pictured below).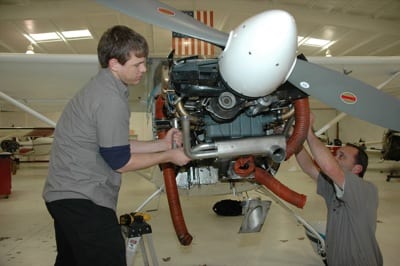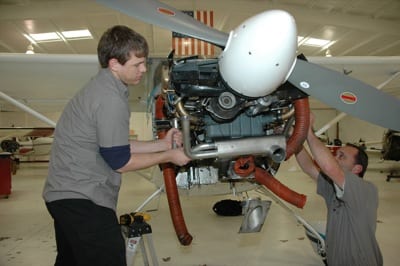 Installing larger fuel tanks on the earlier Skyhawks also is a popular modification. Various STCs include tip tanks, additional inboard tanks or a reserve tank under the baggage compartment. The Flint Aero, Del-Air (559-784-9440) and O&N Aircraft mods are popular with Cessna pilots.
Some of the most minor Cessna modifications are among the most helpful. The addition of a Westach carburetor temperature gauge through Aircraft Spruce provided me with instant feedback on any possible carb icing. Door stewards from Mountain View Aviation help manage the opening and closing of doors on nearly all high-wing Cessnas up to the unpressurized 210.
The early Skyhawks did not have a baggage door, so I purchased the STC from Del-Air, bought a used door from Wentworth Aircraft and had it installed by my A&P. A nice addition for 172, 182, and early model 210s is a baggage door organizer. I ordered one from Denton Enterprises (208-466-4882) in Nampa, Idaho. It screws inside the door and provides room for a couple of quarts of oil, a spout, fuel sampler, rags, tools, and other small items.
My Skyhawk has a couple of other major modifications. The biggest is the conversion to conventional gear, turning the tricycle gear 172 into a tailwheel aircraft with the Bush conversion STC (620-782-3851 or 800-972-0988). There is a similar STC to convert the 182 into what is essentially a 180. The aircraft also has tail handles (B.A.S., Inc.) which slide out of the fuselage, making it easier to move the plane around. The tailwheel conversion was paired with the Bush STOL kit. The Horton STOL kit was also mentioned by Cessna pilots. My current wish list also includes vortex generators to lower stall speeds and improve low speed handling.
Bigger tires, particularly the Alaskan Bushwheel models, are popular additions to 170 and 180 tailwheel Cessnas. Alaska Tundra Tires offers the tires.
Some of my flying friends are near religious about upping that cruise number and recommend Knots2U, which is best known for fairings for wheels and cowling and vortex generators. Check also Maple Leaf Aviation (Canada) for Fancy Pants wheel fairings.
The biggest item on my current wish list is an engine analyzer with fuel flow. J.P. Instruments and Electronics International are popular choices with Cessna pilots.
A good source to evaluate Skyhawk modifications is the Cessna 172 club, an online forum. There's no membership fee. I checked online a couple of days ago at the 172 Club site and came up with a few more popular suggestions for modifications. The top ones not already mentioned included: Right hand opening window; improved air vents; upgraded avionics with traffic monitoring; coupled GPS and autopilot; folding jump seats; and a ballistic parachute.