Avidyne has received FAA certification of Release 10.1 software for the IFD540 FMS/GPS/NAV/COM systems.
Release 10.1 (R10.1) includes the software required to remove the Emergency Airworthiness Directive (AD) regarding limitations on GPS approaches with specific leg types that was issued in May to existing owners of Avidyne IFD540 systems.
With the R10.1 upgrade, this AD can now be removed from the Limitations Section of the airplane flight manual or flight manual supplement, according to company officials.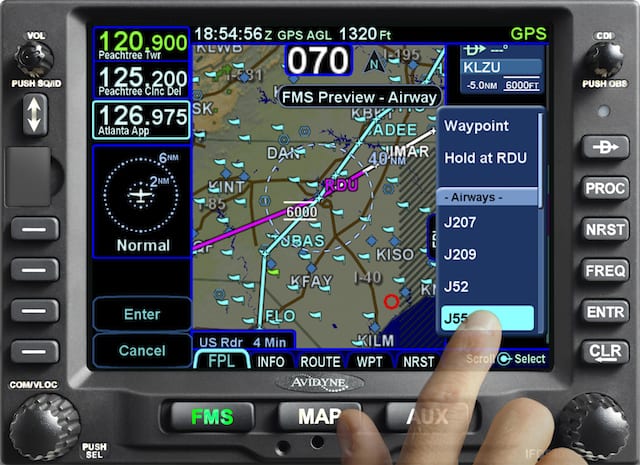 R10.1 software is a field-loadable upgrade for the IFD540 that includes product improvements and new functions, including:
Support for display of ADS-B (FIS-B) weather when interfaced with an Avidyne MLB100 or MLX200.
Rubber-banding of the active flight plan leg: Now the magenta 'active' leg can also be stretched, providing a new active waypoint using the touch screen.
Scrollable data blocks: Allows the pilot have more data blocks configured than can be displayed on a single screen. Using the touch screen, the pilot can scroll up or down to view addition data blocks.
Standby Com Monitor: Enables monitoring of the standby COM frequency when connected to an Avidyne AMX240 audio panel.
Multiple-user configurations: Allows up to 5 user configurations of data blocks, page layouts, and checklists can be saved.
Expanded checklists: More check list pages were added, and multiple users can customize, save, and recall their own checklists.
Download/Saving of user-defined waypoints, flight plan routes: Allows pilots to save all their user-defined waypoints and saved flight plans to a USB jump drive, so they can easily be restored to another unit or saved as backup.
Support for control of Avidyne's new remote-mounted AXP322 remote Mode S transponder with ADS-B OUT.
Enables Bluetooth and WiFi: While the hardware for wireless connectivity has been in the boxes since the beginning, R10.1 is the first activation of wireless functionality, specifically, the MK10 mini Keyboard, which allows pilots to enter waypoints, flight plans, and zoom the map range in and out, among other things via Bluetooth.
The software upgrade will be offered at no charge for all current IFD540 owners.