DAYTON, Ohio — The Wright brothers' factory should be preserved because its two buildings contain stories of importance to the world, Pulitzer Prize-winning author David McCullough said Tuesday, April 19, after touring the century-old factory.
They're also symbolic of a time when industrial cities like Dayton took great pride in the products their workers turned out in mills and factories, said McCullough, whose book "The Wright Brothers" became a best seller and renewed interest in Wilbur and Orville since its release last year.
"I am a great believer in historic preservation because you're reminding people that you're living in a community that has a sustained connection with the past, and those who went before us here and did things of merit and changed the world deserve to be present, as it were, among us," McCullough said during an interview recorded inside the historic factory.
The National Aviation Heritage Alliance (NAHA) arranged the tour and interview for a video to be released at a later date as part of a campaign to save and restore the factory. It's now vacant and closed to the public, although NAHA offers free monthly tours with the consent of the property owner.
Wilbur and Orville lived in Dayton and built their first airplanes in their West Third Street bicycle shop. They formed the Wright Company in November 1909 and built the factory buildings in 1910 and 1911.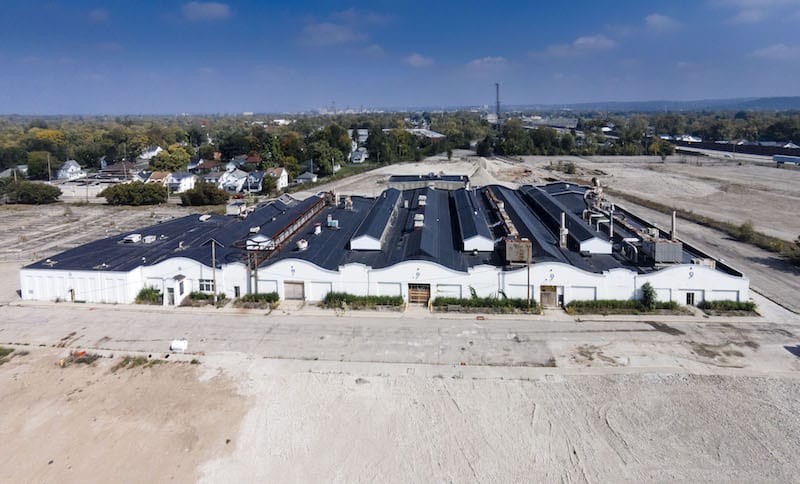 General Motors later acquired the buildings and created the Inland Manufacturing Division (later Delphi Automotive Systems).
The plant expanded to cover 53 acres until Delphi, by then an independent company, declared bankruptcy and shuttered the plant in 2008. The next year, Congress authorized the National Park Service to add the factory to the Dayton Aviation Heritage National Historical Park.
While the park has several sites that tell the story of the Wright brothers' invention and development of the airplane, the factory would represent the "final fulfillment" of their quest for a practical flying machine McCullough said.
"These [two factory buildings] are symbolic or emblematic structures in that they contain stories that are of importance not just to this community, but to the country and to the world," he said.
NAHA has been leading a campaign to raise funds to acquire all 53 acres of the site and put the historic buildings in the hands of the National Park Service. Previous efforts included working with the city of Dayton, state legislators, Delphi and the current property owner to demolish all but the historically significant structures and make the cleared land ready for redevelopment.
McCullough said he'd like to visit the buildings again as a fully restored unit of Dayton's national park.
"I'd like to be able to walk in here and see their airplanes being built in various stages," McCullough said, adding that he would also like to see tools of the type the Wright Company's workers used and even where they ate lunch. "This was a community in here, a community at work. And I'd like to feel that I could walk into that."
McCullough's visit to Dayton coincided with an appearance at Wright State University by actor-filmmaker Tom Hanks to dedicate the Tom Hanks Center for Motion Pictures and take part in a fundraising gala for the motion picture program.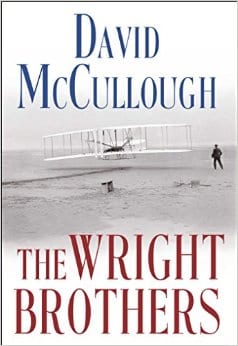 Hanks has taken an interest in the Wright brothers: He's co-chairing Wright State's $150 million capital campaign with Amanda Wright Lane, great-grandniece of Wilbur and Orville and a NAHA trustee, and his company Playtone has bought rights to McCullough's book for an HBO miniseries.
Hanks saw the Wright factory Monday afternoon, as well as three units of Dayton's national park: The original 1905 Wright Flyer at Carillon historical Park and the restored Wright Cycle Co. in the Wright-Dunbar neighborhood. He also visited Wright "B" Flyer Inc. at Dayton-Wright Brothers Airport and the National Museum of the U.S. Air Force.
On Tuesday morning, Hanks and McCullough visited another national park site, the historic Huffman Prairie in Greene County. Now publicly accessible part of Wright-Patterson Air Force Base, Huffman Prairie is where Wilbur and Orville continued their flying experiments in 1904 and 1905 and later established the Wright Company's test site and flying school.
At Wright State on Tuesday, they conducted separate master classes and lunched with small groups of students. They also examined original Wright documents and artifacts in the Wright State University Library's Special Collections and Archives.
At the factory, Dayton Mayor Nan Whaley greeted McCullough and presented him with a key to the city.