It is hard to see the bigger event that is SUN 'n FUN while also producing the daily newspaper for the show. A 40-page newspaper requires feeding and attention, just like a baby.
So as I look back on the show, it's all a blur. Thankfully I had a reporter's notebook in my pocket to document a few of the many interesting tidbits I came across.
So, here's a condensed, and far-from-complete look at the 2016 SUN 'n FUN fly-in… as told by my notebook.
Five years ago SUN 'n FUN was $2.5 million in debt. In 2016, the fly-in started with $500,000 in the bank and more than $150,000 in an endowment to continue educating the next generation of aviators.
Avidyne posted 40% year-over-year growth in 2015 as compared to 2014.
A somewhat nervous Lakeland Mayor Howard Wiggs went aloft with the Aeroshell Aerobatic team.
Hilton Software will include geo-referenced departure procedures (DPs) and standard terminal arrival procedures (STARs) to its May 2016 release of its WingX Pro7 app. Hilton Software's Hilton Goldstein said he'd like to grow to 40-50 or more employees, from the current 17, as quickly as possible.
The Aircraft Owners and Pilots Association (AOPA) launched the Flying Club 150 Giveaway. It will give away the Aviat Aircraft restored 150 to a newly formed flying club in October.
Rotax expects to start delivering its 915iS in the second half of 2017.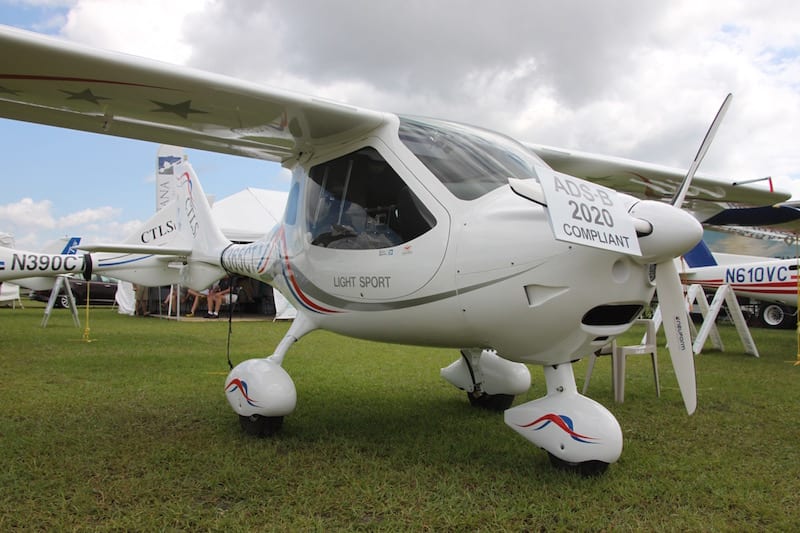 Flight Design USA President Tom Peghiny looked visibly buoyed as he reported the first CT-series aircraft from Taiwan's AeroJones Aviation would be stateside imminently. The fact that AeroJones will deliver 55 CTLS and CTLSi per year – to start – led to 10 distributor orders.
Appareo's Stratus ESG, a complete ADS-B 2020 mandate solution, expects FAA certification soon, with deliveries to immediately follow. Its 250 dealer network has been selling product and is ready to begin installations, according to Kris Garberg, Director of Sales.
SocialFlight.com, the event calendar that drives the General Aviation News website and print calendar, has surpassed 50,000 registered users. According to founder Jeff Simon, the forthcoming version 5 will include a featured aircraft of the day, destinations, and the ability to filter by points of interest.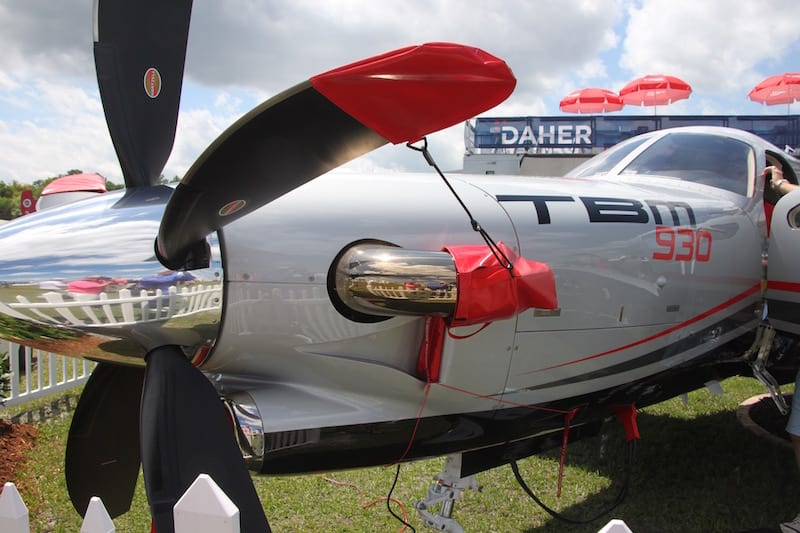 Daher's Nicolas Channert announced the TBM 930. The 930 is being billed as the TBM 900's big brother. Why is the worthy of mention?
This is the second time Daher has publicly announced a new model that had already been EASA and FAA certified and was available for immediate delivery. The last model was the 930s little brother in 2014.
Bravo to Daher for bucking the long held custom of announcing a product that will be available in the future, following certification.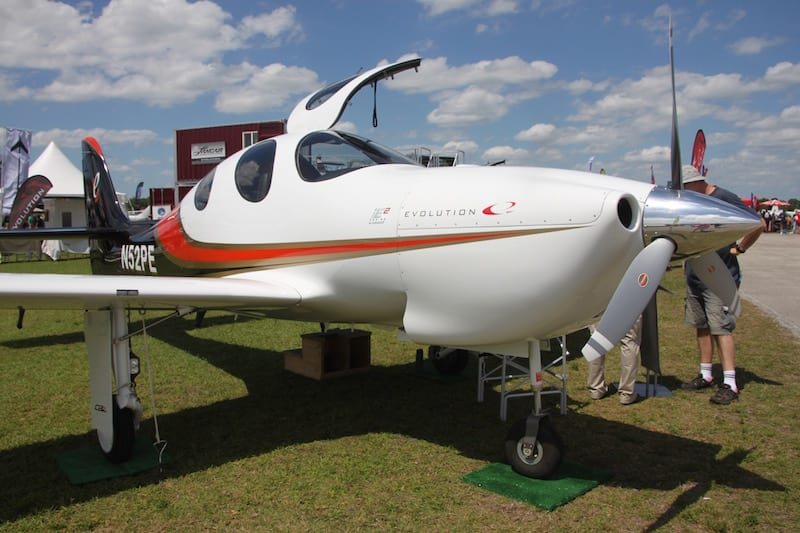 The first piston-powered Lancair Evolution was on display in the Lancair display. This model is powered by Lycoming's iE2-line.
"At 17,500-feet, burning 12 gph," says Lancair's Keithe Vasey, "this Evolution cruises at 205 knots."
Also, of the 76 Evolution kits sold, 61 are flying.
EAA announced a new STC that will allow some Cessna and Piper owners to install Dynon Avionics' EFIS-D10A. Why is that notable?
The D10A isn't an FAA certified instrument. Dynon has delivered thousands of D10s to the experimental market.
I asked Dynon's President Robert Hamilton if they had to make any changes – at the FAA's request — to get the STC approved. "No," was Hamilton's immediate answer.
Did you feel that? The earth just shifted a bit.
Lots more happened at SUN 'n FUN, but I can't be everywhere. In fact, as I was running around the grounds while cleaning up, I was amazed at how much I missed seeing. This and the next issue will be stuffed with some of the stories SUN 'n FUN produced.
If you've never made it to SUN 'n FUN, the 2017 version is set for April 4-9. Consider putting it on your calendar now.