SOUTH SAINT PAUL, Minn. — Wipaire has named Steve Fuchs senior director of aircraft services.
He will oversee Wipaire's maintenance, interiors, paint refinishing, and avionics departments, including the Leesburg, Florida, service center.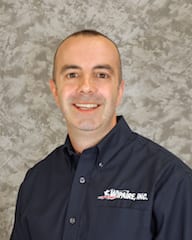 With experience in aviation maintenance management, operations, training, and risk-management, he brings a broad range of skills from a background in Naval Aviation and corporate finance, according to Wipaire officials.
His military career saw him flying the F-14 Tomcat, F/A-18 Super Hornet, T-45 Goshawk, and C-130 Hercules, along with serving in several managerial and mentoring roles.
He holds a bachelor of science degree in finance from the University of Minnesota's Carlson School of Business, as well as a master's degree in finance from the Naval Postgraduate School.