This past week my Sunday paper included a story you would have enjoyed.
The photos were of three young women, each standing proudly beside an airplane. Two were beside a Piper Cub, while the third leaned casually against a Cessna 150. One is a CFI, the other two are high school students who just happen to be working toward earning a private pilot certificate.
All three plan to make aviation a career.
I'm willing to bet you would have read that story if it was in your paper, too. It was hard to miss on the front page of the Lifestyle section of The Ledger, a daily newspaper with the largest circulation in Polk County, Florida. A county that is nearly twice the size of Rhode Island.
Polk County is also the home of Lakeland Linder Regional Airport, where the annual SUN 'n FUN International Fly-In and Expo occurs each spring.
This is an aviation-friendly corner of the world. Which is to say, aviation enthusiasts have an affection and an appreciation for what a relatively small number of people have done to make aviation a real economic powerhouse in these parts.
Ironically enough, it is also fair to say that most of the local population doesn't give a good gosh darn about aviation in any form. They're not pilots, or mechanics, or administrators, or line service workers, or fuel suppliers. From their perspective, aviation has nothing to do with them, and so they ignore it for the most part.
They don't ignore the Sunday paper though.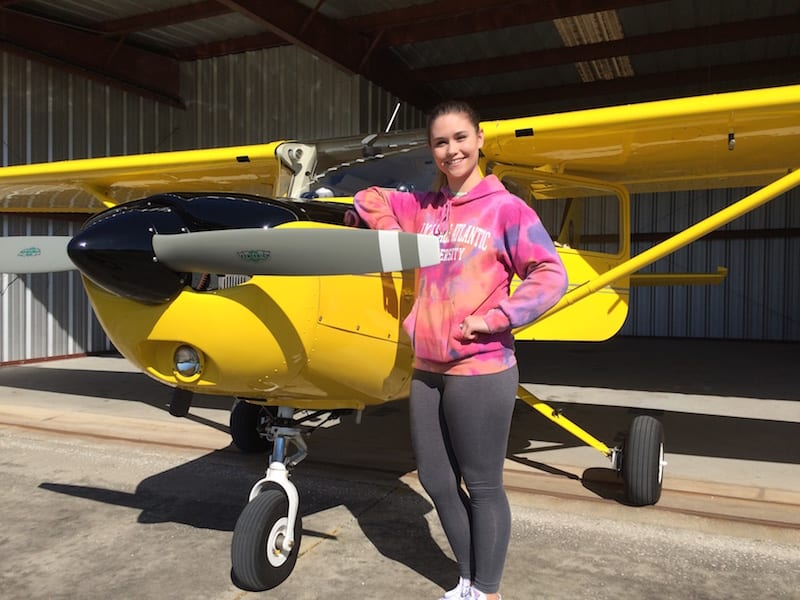 This week aviation enthusiasts and everyone else read about young women getting involved in aviation in a meaningful way.
Not rich kids, just average everyday people who go to school, work hard, and set their sights on something a bit out of the ordinary.
Not kids from aviation families. None of the young women profiled even knew aviation was an option for them until they experienced it for themselves.
That turned a light on for them. It lit a fire in their bellies and gave them something to strive for that was bigger, and more exciting, and more challenging than anything they'd ever done before.
Best of all, they're doing great and the story made that clear. Each one of them is making real progress, and in the process they're becoming role models that others might emulate.
Maybe a few young women read that story and thought, "Hey, if they can do it, I can do it."
Or perhaps a parent or two saw it and thought, "Maybe my daughter would like to consider a career in aviation, too."
And it's almost guaranteed some young men looking for the sports section came across that story and like a smack to the head realized, "There are girls at the airport. Let's go!"
The appearance of that story is important. It means a positive, uplifting story about aviation ran in a mainstream publication. It means tens of thousands of people read that piece. They found out that aviation is more affordable than they'd imagined.
They saw for themselves that young women are striving to achieve something impressive, right in their own back yard. And they made the connection that everyday Jane and Joe American can just motor down to the airport and spend some time getting acquainted with an otherwise mysterious industry any old time they want to.
All of that is new information for most folks. It's worthwhile information for a significant minority of them, too.
And that's to say nothing of the pride it instills in the young women featured in the story, or the boost it gave to their fellow aviators far and wide, whether they know each other or not.
Now here's the crux of the issue. Why did the newspaper run that story?
The answer is simple. I suggested it.
Note that I said I suggested it. I didn't ask them to write a story. That's too much like asking a favor, and journalists almost never respond well to someone asking for a favor. I went the other way, I wrote an email to two editors and two reporters, suggesting the same story to all four. I told them women make up a very small percentage of pilots, and that although we're seeing more images in recent years of women making a living as pilots or mechanics, those women are well outside the mainstream of the general population.
Then I told them I knew a place right here locally where young women were learning to fly, and teaching people to fly, and they were willing to talk about it.
Then I waited. It took six weeks before someone wrote back asking for contact information, but the story was a good one, and they knew it. So they researched it, wrote it, and ran it.
I share this story for only one reason: To let you know that you can do the same thing in your neighborhood.
Find a story, then connect that story to a writer or editor who can get the word out. Tell them why it's a good story, and give them time to consider it and develop an angle they want to pursue.
If you play your cards right, you just might change somebody's life. Or you might see a boost in business at your local airport — all because you took the time to suggest the local press shine a light on something unique and interesting about a person, a group, or a project that's happening at the airport.
It works. Really it does. I hope you'll try it. And I wish you the best of luck when you do.