Air Force One, the Flying White House, is fully described in photos and art in a laminated folder released recently by Scarfo Productions LLC, publishers of earth and space science material.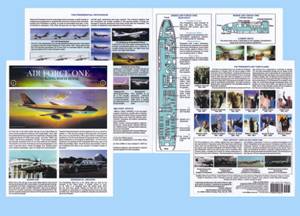 The laminated folder is packed with photos, information, and illustrations on the highly customized Boeing 747-200B, which is used and maintained by the U. S. Air Force solely for use by the President of the United States.
In addition to the history of the presidential usage of aircraft since President Franklin Delano Roosevelt, the first president to fly while in office, the folder also shows photographs of the support planes, helicopters, limousines, and vans that are used in domestic and overseas travel by the presidential entourage. Detailed diagrams of the main deck and the upper deck of the three-deck 231-foot long aircraft are shown. Also included are color photos of the President's private suite, office, and conference room aboard the aircraft. Additional photographs and information are also provided on Marine One, the President's helicopter, and his private limousine, referred to as "The Beast" by the Secret Service.
For more information: Scarfo9@comcast.net