Moonwalk One-The Director's Cut, a new two-disc DVD of the 1969 documentary film originally commissioned by NASA to capture the celebrated Apollo 11 space mission of man walking on the moon, goes on sale Monday, June 21.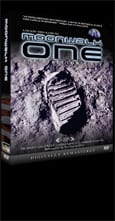 The documentary film and original 35mm print has been restored to produce a 16:9 widescreen version and original full frame 4:3 version with a new 5.1 surround sound mix with a full length director's commentary and various added bonus features.
"They asked me to make a 'time capsule' of an event that I saw as a landmark in human history, and so I did," said the film's director, Theo Kamecke. "I tried to capture the mood and feelings on Earth as we left it, not just the technological achievement. I wanted to make it like a tale told beside a campfire of that time when we first walked on another world."
Moonwalk One-The Director's Cut will be available at Amazon.com for $33.
For more information: MoonwalkOne.com