The trustees of the Wathen Foundation recently elected Major General Richard D. Roth (USAF Reserve, retired) to serve on the foundation's board. He succeeds Major General Patrick Halloran (USAF, ret.).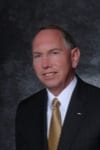 While active in the Air Force, Roth was responsible for the oversight of more than 900 Reserve judge advocates and paralegals in the Judge Advocate General's Corps in more than 200 offices throughout the Air Force Reserve.
Roth was commissioned in 1972 and served until his retirement in 2007. He is the senior partner of Roth, Carney, Knudsen, LLP in Riverside, and is active in numerous Riverside organizations.
The Wathen Foundation owns Flabob Airport in Riverside, Calif., and the Wathen Aviation High School.
For more information: 951-683-2309, ext. 104, or Flabob.org.