Sporty's has added a complete digital version of its catalog for both online and mobile customers.
"Pilots still love the print version of our catalog," says Sporty's Pilot Shop Vice President John Zimmerman. That was the impetus behind adding a complete digital version of Sporty's catalog for both online and mobile customers, he added. "Online catalogs have evolved significantly from the first, somewhat clunky, attempts several years back — and our new catalog lets you do a lot more than just look."
Sporty's online catalog may be accessed by clicking an icon on the Sporty's Pilot Shop homepage. Customers can flip through every page just like the print catalog. Plus, users can bookmark pages, add notes, "like it" to Facebook, "tweet it" to Twitter or email a page to a friend. Catalog pages can even be printed or saved to the customer's computer desktop for future reference, according to company officials.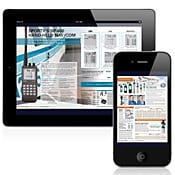 The entire catalog is also viewable on mobile devices, including iPhone, Android and Blackberry phones. For iPad users, Sporty's has launched a native iPad app version of its digital catalog that includes many of the same interactive features. Customers can download the latest version of Sporty's catalog every month from the app, and the catalogs are saved on the customer's tablet. Sporty's iPad app eCatalog is available free in the iTunes App Store.
"But don't worry — our print catalog isn't going away," says Zimmerman. "We know that many pilots love the look and feel of a paper catalog in their hands, and we'll be mailing these out for many years to come."
Now celebrating its 50th anniversary, Sporty's has grown from a one-man operation launched by Hal Shevers to the world's largest pilot shop and an iconic general aviation brand. Sporty's operations at Ohio's Clermont County/Sporty's Airport (I69) extend to airport management, avionics installation and repair, aircraft maintenance, a residential airport community, new aircraft sales and flight training, including for the University of Cincinnati's professional pilot program.