Hilton Software has added Instrument Approach Procedure (IAP) Routing to its WingX Pro7 application.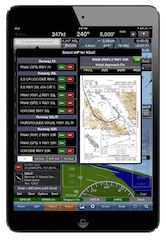 IAP Routing enables pilots to select an instrument approach and have WingX Pro7 automatically insert the IAP's fixes into the route.
Pilots using WingX Pro7 can plan a flight using a Departure Procedure (DP), Standard Terminal Arrival Route (STAR), Instrument Approach Procedure (IAP) plus any number of intermediate fixes and airways, company officials explained.
WingX Pro7 enables pilots to select the initial DP fix, DP and STAR transitions, and IAP Initial Approach Fix (IAF) to provide the exact routing from take-off to landing.
Other Version 8 enhancements include Bluetooth support for WingX Pro7 for Pebble watches, User Documents in WingX Pro's split screen,  moving map performance enhancements, and support for additional ADS-B receivers.
WingX Pro7 for Pebble ("Wearable WingX") is a free download from the Pebble app store and includes ETEs, ETAs, vibration altitude warnings, a fuel timer, and battery monitors.
For more information: HiltonSoftware.com