The SUN 'n FUN 2017 Seabird Splash-In is set for April 1-2, 2017, at Tavares Seaplane Base (FA1) in Tavares, Florida.
The weekend will include contests on the water and transit to the SUN 'n FUN Expo campus for the 43rd annual SUN 'n FUN International Fly- In & Expo on Monday, April 3. The airshow's official opening day is Tuesday, April 4.
Organizers report 100LL fuel will be available on the base and facilities will include mooring, docking and ramp access.
While SUN 'n FUN continues to look for a suitable location for a Splash-In near Lakeland, Seabird Co-Chairmen Geoff Nye and Bob Highley met with the management of Tavares Seaplane Base and determined that a Splash-In at Tavares was not only feasible, but a great location for seabirds on their way to SUN 'n FUN.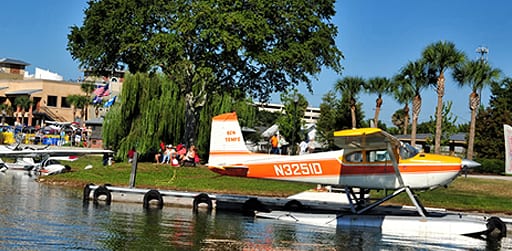 Tavares, known as America's Seaplane City, has all the facilities for seaplane activities, as well as walk-to hotels and restaurants, organizers note. Tavares officials add they are experienced in conducting seaplane splash-in events and are excited to host the SUN 'n FUN Seabirds.