Story and Photos By HOWARD LEVY
Woody Saland's career is all about jets, but when it's time for fun, he's all about flying low and slow.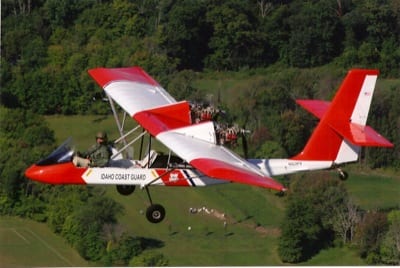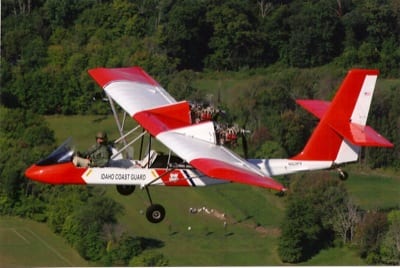 Saland is manager of technical programs for Teterboro, N.J.-based Falcon Jets, the U.S. division of the French Dassault organization that produces Falcon light jets and fighter aircraft. Besides dealing with all cabin interiors, communications and avionics, he supports the corporate jet sales teams in answering questions about avionics, options and more. He has personally worked up advanced avionics systems for customers. His position also has resulted in his being checked out and flying the latest model Falcons, including the 900EX, 900EX EASy, and the model 2000.
But when it's time for fun, Saland flies an AirCam — but not just any AirCam, one that is decked out with the latest in avionics.
The AirCam was designed in the early 1990s by Phil Lockwood at the request of the National Geographic Society, which wanted an aircraft that could be used for aerial photography in remote areas, particularly Africa. Lockwood considered a single-engine airplane inappropriate for operating in areas where potential emergency landing sites were lacking, and began the design of a twin-engine airplane. In just six months the prototype AirCam was designed, built, test flown and shipped to Africa. It had two 64-hp Rotax 582 pusher engines mounted on its wing and was fitted with a tailboom.
According to Lockwood, there are about 120 AirCams flying worldwide, with most in the U.S. About 15 are scattered around the world in places like Nambia, South Africa, Israel, Costa Rica, Mexico, and the Caribbean. While some are used for business, most are flown for sport.
Of all those, Saland's AirCam is probably one of a kind.
Kit #53, it was built in Boise, Idaho, by Gordon Pratt and his father, Avery, a retired radiologist, with assistance from Rob Allen, an A&P.
Gordon Pratt and Rick Price were the forces behind Sierra Flight Systems, which produced EFIS equipment for experimental and certified aircraft. Sierra was later purchased by Chelton Flight Systems, which is now owned by Cobham, a large British aerospace organization.
The Pratt's AirCam was built for fun flying, but naturally was also fitted with Chelton avionics. Build time took about five years.
While based in land-locked Idaho, the Pratts painted the plane in Coast Guard colors and markings as a tribute. First flight was in October 2003 and Pratt had put about 290 flight hours on it when he decided to sell the AirCam about three years later.
The airplane caught Saland's eye at the 2006 National Business Aviation Association convention in Orlando.
"I believed it would be an interesting aircraft to fly," he recalled. "I tracked down Gordon and, upon learning it was for sale, I decided to purchase it."
Although it was already fitted with some of the most advanced avionics, Saland asked Pratt for more.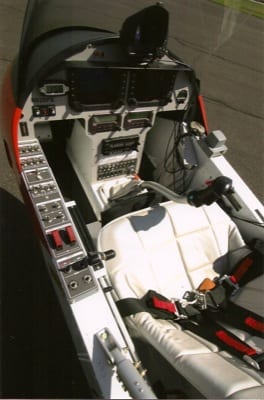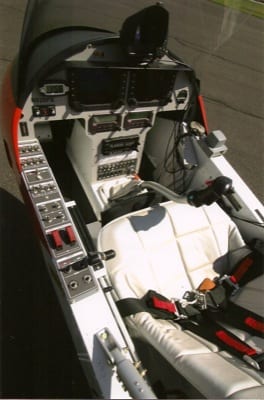 Unlike most experimental airplanes, this AirCam had a Chelton EFIS with Air Data Altitude Heading Reference System/GPS (ADAHRS/GPS) on both the front and rear cockpit panels, Saland noted. He had Pratt add another unit on the front panel, and update all three with the latest software. Each unit independently displays three screens and cycles between the Primary Flight Display (PFD), Multi Function Display (MFD) or engines.
But Saland didn't stop there. He had Pratt install a magnometer for heading in the tail fin while the front cockpit received a TruTrak Digiflight II autopilot that flies both TRACK and the GPS from the Chelton; a new ground power plug; and a metal ledge to mount his Garmin 396 portable GPS above the Chelton display units. The 396 has uplink weather and can display traffic from his Zaon XRX traffic display.
Also added were an ELT arm switch; a socket for an MP-3 player that connects to the radios; a NAT helicopter intercom system; an Apollo SL 30 NavCom and Apollo SL 70 transponder, all in the front cockpit.
A panel at the pilot's left side carries switches for fuel pumps, primer, mags, starter, avionics, lights, wastegate, engine turbo controllers, and controllers for the inflight adjustable props.
Saland also had steady and flashing LED taxi lights installed in the nose, along with landing lights consisting of a PIAA auto/off road halogen light mounted on each landing gear leg.
When it was time to head home, Saland asked Allen if he would accompany him.
"Rob is an excellent pilot and well acquainted with the AirCam," Saland noted, "so I knew he would be a good back-up pilot and mechanic if either was needed."
The flight from Idaho to New Jersey took eight days and 50.6 hours of flight time.
"We covered the 3,271 miles at an average speed of 65 mph and, would you believe, with a total two-engine fuel burn of only 5.6 gph," Saland said. "Our normal cruise settings were about 45% power and the trip took 308 gallons."
The AirCam is primarily of 6061-T6 aluminum construction with fabric-covered wing and control surfaces. Wing panels are of ladder construction with leading and trailing edge tubular spars, compression tubes and ribs. The ribs are mostly fiberglass rods.
"These ribs help create the airfoil by bending under tension in their attachment to the spars," Saland explained.
The wing center section is of all metal construction and is fitted with two 14-gallon fuel tanks in its forward area. Tanks are not interconnected, so there is no cross feeding, which requires individual on-off switches.
The 9 foot, 6 inch span, 12-inch chord ailerons and 8 foot, 4 inch span flaps are constructed like the wing panels. Flaps also have a chord of 12 inches and are electrically activated. Wing struts are aluminum tubing with aerodynamic low-drag aluminum fairings.
Tail components are fabricated much like the wing, but have aluminum skins on the fin and stabilizer, while the rudder and elevator are fabric covered. Except for the cable controlled rudder, the other control surfaces employ push rods and bell cranks for activation.
The fuselage is an all aluminum monocoque structure fitted with preformed bulkheads and stringers.
Behind the tandem cockpit is a utility compartment that can carry a large load. A number of other AirCams have a third seat in this compartment.
Saland's AirCam is powered by two 115-hp Rotax 914 turbo-charged and intercooled engines and swing Ivo in-flight adjustable, three-blade composite props.