For 2011 air show season, Rob Holland Ultimate Airshows has a new sponsor: Veteran Home Loans, the nation's largest VA lender.
"I am honored to be flying for Veteran Home Loans during the 2011 air show season," said Holland. "It is very exciting to represent such a values-based company, one so dedicated to our veterans. I look forward to performing in the Veteran Home Loans MX2 for millions of air show guests all over the United States this year."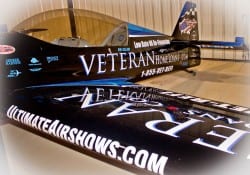 This relationship represents Veteran Home Loan's first foray into air show entertainment.
The owner of Rob Holland Ultimate Airshows LLC, Rob flies more than 20 airshows a year across the United States and Canada. He is the 2008 World Advanced Aerobatic Champion. He is a current member of the US Unlimited Aerobatic Team and a three-time member of the US Advanced Aerobatic Team.
For more information: UltimateAirShows.com and VeteranHomeLoans.com