GlobalParts.aero and Interceptor Aviation have created the Meyers 200 Air Racing Team.
Officials are encouraging existing Meyers 200 owners to participate in the upcoming events in this summer's Sport Air Racing League (SARL) slate to "get the most out of the performance of the Meyers 200 and enjoy the airplane's design," according to Nin George, Vice President of Quality and Performance Excellence at Global Parts.aero and Interceptor Aviation.
Interceptor Aviation, which acquired the Type Certificate for the Meyers 200 aircraft in 2014, is an affiliate company of the Global Parts Group.
"The Meyers 200 was an airplane that was designed to last and was ahead of its time when it debuted nearly a half century ago," George continued. "Now, it's enjoying a revival thanks to GlobalParts.aero and Interceptor Aviation and after two Meyers 200 owners won their categories in SARL competitions last year, we thought this would be a great way to focus some positive attention on the airplane and give our Meyers Movement members a fun way to get together and promote the performance of the Meyers 200, as well."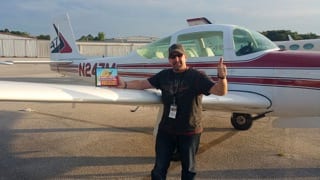 "John Secord and Jamon Pruitt both recorded SARL wins in their Meyers 200 airplanes last and this year, so we've turned to them and encouraged them to recruit some of their fellow Meyers owners to join them in the Sport Air Racing League events. We're offering an incentive by creating the Meyers team, complete with uniforms and a trophy, which we've named in honor of a long time Meyers airplane owner and true American hero, Captain Chuck Downey, who was the youngest Naval aviator in World War II, the youngest man to attain the rank of Captain in the U.S. Navy and who flew his own Meyers airplane into his 90's. Captain Downey addressed the Meyers Aircraft Owners Association Fly-In last year in Augusta and was an enthusiastic supporter of aviation right up until his recent passing. We thought this would be a fitting tribute to his memory," George added.
Interceptor Aviation is seeking to raise the profile of the Meyers 200 in the general aviation marketplace and promote its performance with an eye at possibly reintroducing limited production of the airframe at a future date.
Interceptor Aviation has received PMA certification as the type design holder from the FAA for a number of Meyers component parts at its Augusta, Kansas, facility and are available for purchase through GlobalParts.aero.
The company acquired three hangars and the FAA Ratings and Ops specs for the FAA/EASAAir Agency Certificate of GlobalParts Aero Services were amended to add limited airframe and powerplant maintenance services at the Augusta Municipal Airport in 2014.
Race With A Race
GlobalParts.aero and Interceptor Aviation is collaborating with the Meyers Aircraft Owners Association to create the "Race within a Race Challenge" for Meyers participants to create a four-race competition beginning with the July 24 Air Venture Cup Air Race to Oshkosh, Wisconsin followed by:
Aug. 8, 2016 Indy Air Race, Indianapolis;
Aug. 20, 2016, Mid-Eastern Fly In Air Race, Urbana, Ohio;
Sept. 4, 2016 Thunderbird 150 Air Race, Wickenberg, Ariz.
The winner of the Captain Downey Memorial Challenge Cup will be presented at the 2016 Meyers Aircraft Owners Association Fly-In in St. Charles, Missouri, Sept. 21-24.
For more information on the Meyers 200 Racing Team, contact Nin George at 316-733-9240.